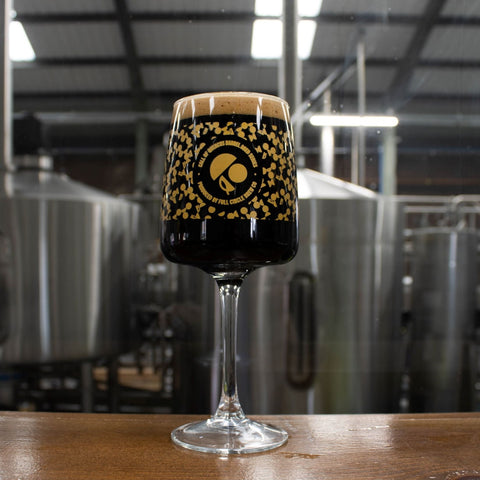 About Call of Quercus 35cl Edel Glass
Celebrating our Barrel-Aged series, stemmed Edel glass
Fresh In
Available From 7th December

Mini Keg | 6.4 | Citra, Mosaic, Cashmere

Available From 7th December

Mini Keg | 4.2% | Centennial, Amarillo, Mosaic

Available From 7th December

Mini Kegs | 4.8 | Chinook, Cascade

DIPA | 8.1 | Citra, Mosaic, Cashmere

Imperial Maple Brown Ale | 8% | Chinook, Columbus, Ahtanum

NZ Session IPA | 4% | Citra, Nelson Sauvin

Bourbon Barrel Aged (12 months) - Kodiak Imperial Brown Ale | 8.3% | Cascade, Chinook, Columbus

Rum Barrel Aged (12 Months) - Parkin At The Moon Imperial Yorkshire Parkin Stout | 12.5% | Ginger, Allspice, Nutmeg, Treacle, Lactose
Collapsible content
National Delivery

Enjoy the convenience of our efficient delivery service. We strive to provide next working day delivery, subject to orders placed before 9 AM. Please note that during busy periods, delivery may take slightly longer. Kindly note that our courier does not operate on Saturdays, Sundays, or Bank Holidays.

For Mainland UK deliveries (excluding the Scottish Highlands), a delivery charge of £5.95 applies to orders under £50. However, for orders over £50, delivery is free within Mainland UK (excluding the Scottish Highlands).

Regrettably, our courier service does not currently cover the Scottish Highlands.

For any inquiries, please don't hesitate to reach out to us via email at info@fullcirclebrewing.co.uk or call us on 0191 481 4114.
Local North East Delivery

If your postcode falls within the following areas, you will be offered our convenient local delivery service at checkout:

SUPER LOCAL (£3.00 or Free over £30): NE1-NE12 & NE25 – NE34
LOCAL (£3.00 or Free Delivery over £40): NE13-NE24, NE35-NE66, DH1-DH6, SR1-SR9
*OUR GENERAL DELIVERY DAYS EACH WEEK:

Wednesday – Newcastle and Coast
Thursday – South of the Tyne
Friday – Newcastle and North
*Please note that these delivery days are provided as a guideline.
Collection

Order placed to be collected will be ready to pick up by the next working day unless otherwise specified (new beer releases and pre-orders are exceptions to this rule).

Our minimum order value of £20 still applies when placing an order to collect. However, if you were looking to purchase items of lesser value you can pop into our tap room during opening hours to make a purchase of any value.